Presentation of the project "Pancia mia fatti capanna" & concert by Swiss Italian singer/songwriter Leti. Tasting of Ticinese delicacies.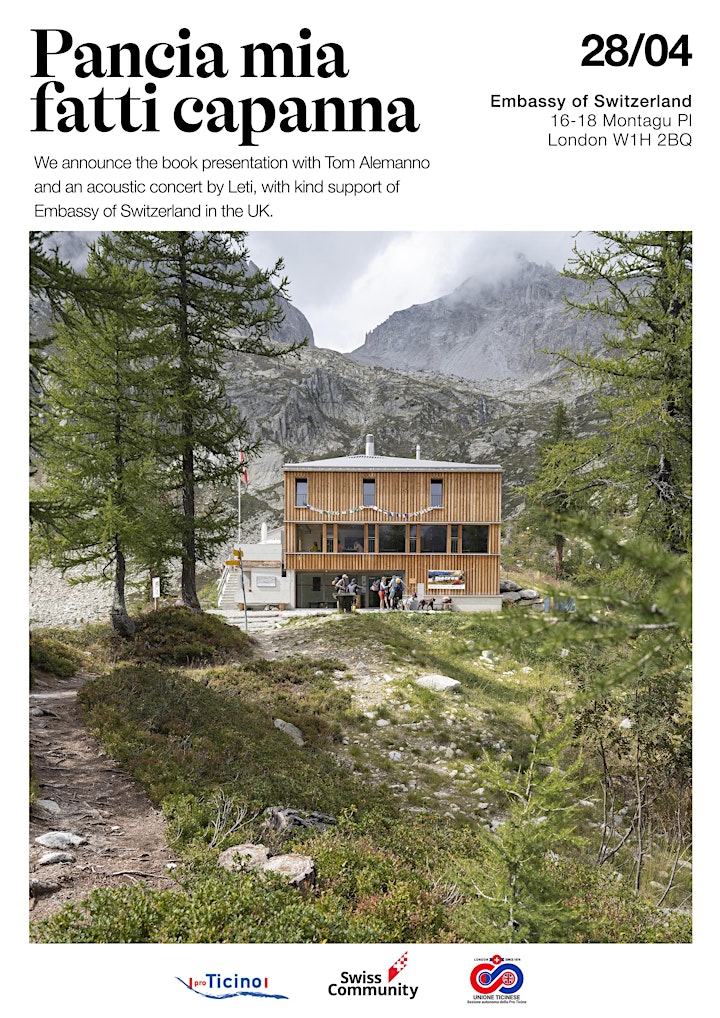 Pancia mia fatti capanna
The project "Pancia Mia Fatti Capanna" was born from an unconditional love for the Swiss Italian territory. A place rich in resources, people, traditions and culture.
Between old houses and alpine refuges, we understood how Italian-speaking Switzerland is a capanna (hut)for us, a safe place in which to be honest, open up to the unknown and let ourselves be surprised by simplicity. A Capanna is also the symbol of the spirit of our region, rude and grumpy but welcoming.
Pancia Mia Fatti Capanna is a starting point for discovering new places and getting to know noteworthy people and activities in Italian-speaking Switzerland, a treasure chest to open and a recipe book of products to taste, among fairy-tale places and fragrances to inhale deeply.
More info about the project is available here
——————————
Leti in concert
Swiss Italian singer and songwriter based in London, Leti makes music that encourages turning within.
In her Alt-pop, Leti brings existential inner explorations to life through her atmospheric, electronic beats and contemplative melodies and her authentic soulful lyrics.
The piano is the fil rouge in all her productions. It is often paired with soundscape elements, ambient synths, changes in tempo, jazz-inspired harmonic progressions, and theatrical and playful vocal expressions. Fascinated by self enquire and finding joy in the mundane, social, and political issues, Leti loves exploring the power of songwriting as a tool for connection and belonging.
Through her studies in vocals and jazz arrangement in Milan, she developed a deep love for the intricacy and variety of music in all its aspects while believing that simplicity is often the key to the pure connection among humans. Now in her MA in songwriting in London, Leti is working on taking her songcraft to the next level and looks forward to sharing new tunes soon.
On Friday, 28th April, Letizia will perform an acoustic set with her piano. So please expect an intimate evening discovering her songs.
After the performance we will serve a tasting of Ticinese food and drinks from the book "Pancia mia fatti capanna".